Shree Mahaganpati Hospital, Titwala
It is the first of its kind in Titwala, our 50-bedded secondary-care multi-specialty hospital. About 12 years back, this hospital was but a dream project of a small group of young men (founders of The Creative Group). Titwala, famous for its Mahaganpati Temple, visited by millions of people every month, did not have a hospital that could provide secondary-level healthcare to the 68 villages in its neighbourhood.
We members of The Creative Group felt a desperate need for local medical facilities, emergency services and good patient care. We believed that rural Maharashtra's healthcare had to be of a high standard and at not less than secondary level of care. We decided we would work on it and make it happen.
Thanks to our own arduous personal journeys, we understand every patient's suffering and pain, hence, we always do our best to provide him/her comfort, essential support, and quick and professional medical services. We continuously strive to educate the rural population here through free medical camps. It helps to create an awareness among them about the importance of medical services.
In the beginning, The Creative Group established a 'Creative Polyclinic', with a small fund, to make available some basic facilities like an x-ray machine, an ECG, dental care, a pathology laboratory, nebulizers, etc. Qualified and experienced doctors were made available for consultations. We organized 'Free Health Check-up Camps' for those living in and around Titwala. Critical cases of snake-bites, deliveries of pregnant women, asthma attacks, etc. were provided with emergency healthcare services whilst we continued to work to make our dream come true, of building a 50-bedded multi-specialty hospital in Titwala.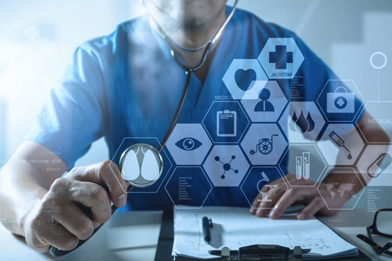 Finally, after a lot of hard work, it has happened. The Shree Mahaganpati Hospital is a 14000 sq ft, three-storied (not including the basement) building with spacious, well-ventilated rooms and wards, and a special labour and maternity unit.
The layout was planned to our specifications by a reputed architect who had experience in the healthcare sector.
The hospital practices appropriate standards of hygiene and cleanliness. All major safety and fire protection systems have been installed.
The Shree Mahaganpati Hospital is equipped with state-of-the-art major/minor operation theatres (OTs), digital x-rays, sonography, 2D-ECHO, EEG, ECG, and a stress-test machine. Also, it has an in-house advanced laboratory and a well-stocked pharmacy.
Our hospital gives specialized diabetic care, does laparoscopic surgeries, and provides maternity services. It has on board teams to deal with the following cases: orthopaedic, ENT, pediatric, urology and dental. Besides, we also have a special Ophthalmic OT, too.
The service of a Dialysis Unit, established under the 'Jyotiba Phule Jan Arogya Yojana', is available at a very nominal cost or sometimes free for poor patients.
Our Physiotherapy Unit, which works under the strict guidance of an expert physiotherapist, is the only such unit beyond Kalyan on the Central Railway line.
We have developed very good, long standing relationships with more than 20 special consultants, who provide the best possible medical services to these rural areas. Our staff is well trained, experienced and takes a lot of trouble to make patients and their relatives comfortable. Each concern, every need is dealt with.
We are always there for you and your friends, your relatives and dear ones, when you need medical support. Any medical support.